Debbie Weaver
Full Name
Deborah "Debbie" Weaver
Deborah
 "
Debbie" Weaver
(née Watson) is a main character on ABC's "The Neighbors."
Biography
Edit
The matriarch of the Weaver family, Debbie strives to be the world's greatest mother and will do what it takes to make her kids happy. She's happily married to Marty, who is a constant source of calm when she needs it.
Relationships
Edit
Season 1                                     
Edit
on Pilot Debbie Weaver with WEAVER FMILY fur see exiting of your house on bayone becuse they sle house on Hidden hills chegndo on hidden hills fur meeting your neighbors on begining she do not like your new neighbors but hirs have dinner with the bird kensess Debbie Weaver talking with Jackie Joyner-Kersee about as your hushbads at treat while Debbie tries discovering somethin abouty Jackie Joyner-Kersee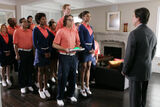 weavers meet yur new neighbors
Memorable Quotes 
Edit
"Marty, you are always surprising me. Just when I think I'm sitting here looking at this goofy man-child who can't even put neosporin on his own elbow, and feeling like my life is getting claustrophobic and closing in on me, you say exactly what I needed to hear. Thanks for understanding, babe."
Image Gallery
Edit
The image gallery for Debbie Weaver may be viewed here.